Description
Enjoy New Jersey in Summer
Please join us in the picturesque, historic Hawthorn Rose studio, located in the suburbs of NYC. Surrounded by beautiful gardens in full bloom we offer a fascinating and informative Aromatherapy Retreat Certification Program
This unique 5 days hands-on Aromatherapy Intensive Level 1 Certified Aromatherapist  retreat will take place in a safe and well-equipped studio, located in Northern Jersey.
You will be working closely with two of the most successful Aromatherapy experts in their fields.
Limited number only 6 people in the course make sure your RSVP.
Raghda A Maksoud

Ginger Andro

Raghda is a level 3 Advanced Certified Aromatherapist, owner of Ebers School of Aromatherapy & NAHA Regional Director for Egypt

Will share with us her unique knowledge of essential oils and Aromatherapy, as well as her formidable experience as a world traveler and her exquisite global work in the essential oils industry in addition to her Egyptian background and Egyptology studies.

Ginger is a level 3 Advanced Certified Aromatherapist , owner of Kiki and Friends Aromatics

Will present a fascinating look into the spiritual, emotional and holistic healing properties of essential oils. Ginger is an artist, perfumer, Spiritual Phyto Essence practionar, Clinical Certified Aromatherapist, Experienced Herbalist and NAHA New Jersey Director.
Both Educators are fully vaccinated
Masks are required to attend the Course/ Retreat 
This 5 days hands-on Intensive Level 1 Certified Aromatherapist  retreat will also include:
Sound healing session with a certified sound healing practitioner
Field trip to botanical gardens with a Master herbalist
Mini distillation class
Breakfast & Lunch
Exotic herbal products
Yoga sessions
Meditation sessions
The Class will cover:
Aromatherapy history
Ancient Egyptian botanicals & Aromatic history
Botany
Safety & contraindications
Methods of extraction
Methods of applications and formulations
Essential oils chemistry
Blending techniques
Hands on study of 20 essential oils, Herbal oils & Hydrosols
How to do an Aromatherapy Consultation
Aromatherapy Business development
NAHA code of ethics
Skin
Muscular system
Limbic system
Respiratory system
Chakras
Yoga
You will create and take-home amazing products with unique botanicals from around the world ($500 value!) including:
Aromatherapy Inhalers
Lotion Bars
Whipped body butters
Lip balm
Body Scrub
Salves
Herbal infusions
Serums
Aromatherapy mist spray
Room sprays
Diffuser Blend
Wax Sachets with Essential oils and dried flowers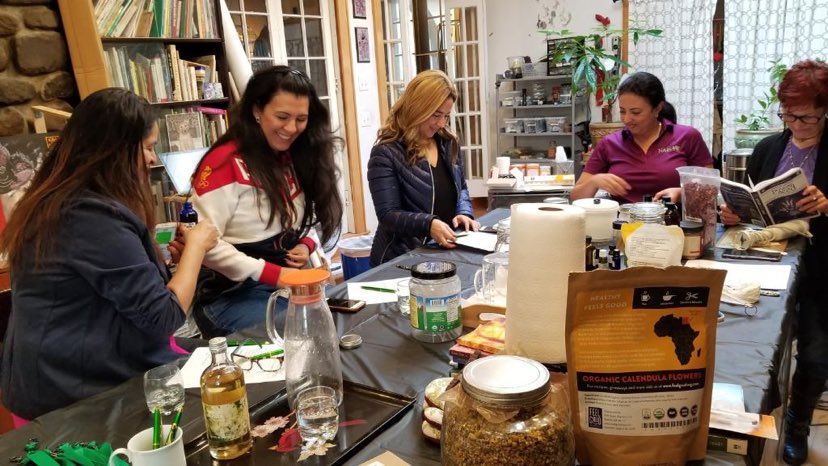 Price
One time payment $849.99
Five  payments ($189.99 each)
Location 
Hawthorn Rose Studio
Westwood – New Jersey NJ 076751
Dates
July 24th to July 28th
9:00 am to 5:00 pm
Includes the following:
Life time access to course material
Ebers School of Aromatherapy notebook
NAHA Booklet
1 year NAHA membership (not applicable with other discounts)
Lifetime Ebers Student discounts on essential oils, classes and study tours once you sign up
Available for Additional purchases:
Printed Level 1 certified Aromatherapist Manual available for $75
Level 1 certified Aromatherapist kit available for $75
If you are coming from another state, we have very affordable accommodation, please contact us for more information.
FAQ
Does this Course provide me with Certification in Aromatherapy ?
Yes, you will receive a level 1 certified Aromatherapist from NAHA approved school
What makes your program different than others?
We offer 25 years of global experience and hands on education with two of the renowned Aromatherapy educators, our students reviews on google is 5 stars , we love teaching and we love sharing our experiences with you.
Are you a NAHA approved school ?
Yes we are a NAHA approved school
Refunds for online Courses are available within 24 hours of registration  prior to login to the program, once logged in and have access no refunds will be available
Please refer to terms – conditions & Return policy